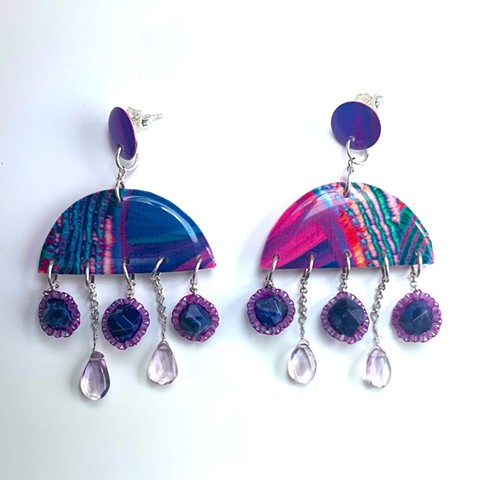 Ferrous (front)
Silver, amethyst, sodalite, glass beads, resin, ink, microscopic images on polymer. .
2.75" L x 1.5" W
These colourful earrings are lightweight and easy to wear. The central microscopic graphic is printed on a 1/16" polymer backing. This graphic changes from front to back, to show a pop of colour as the earring dangles from the earlobe. A resin coating on both sides deepens the colour and mimics the polished surface of the adjacent stones.
The graphic on the front is a microscopic image of ferrous sulphate, a chemical compound with numerous industrial applications, including being used medically to treat iron deficiency. On the back is tryptophan, an amino acid that helps to regulate sleep quality and mood.